Member Spotlight
Want to nominate someone?  Fill out MPA's nomination form!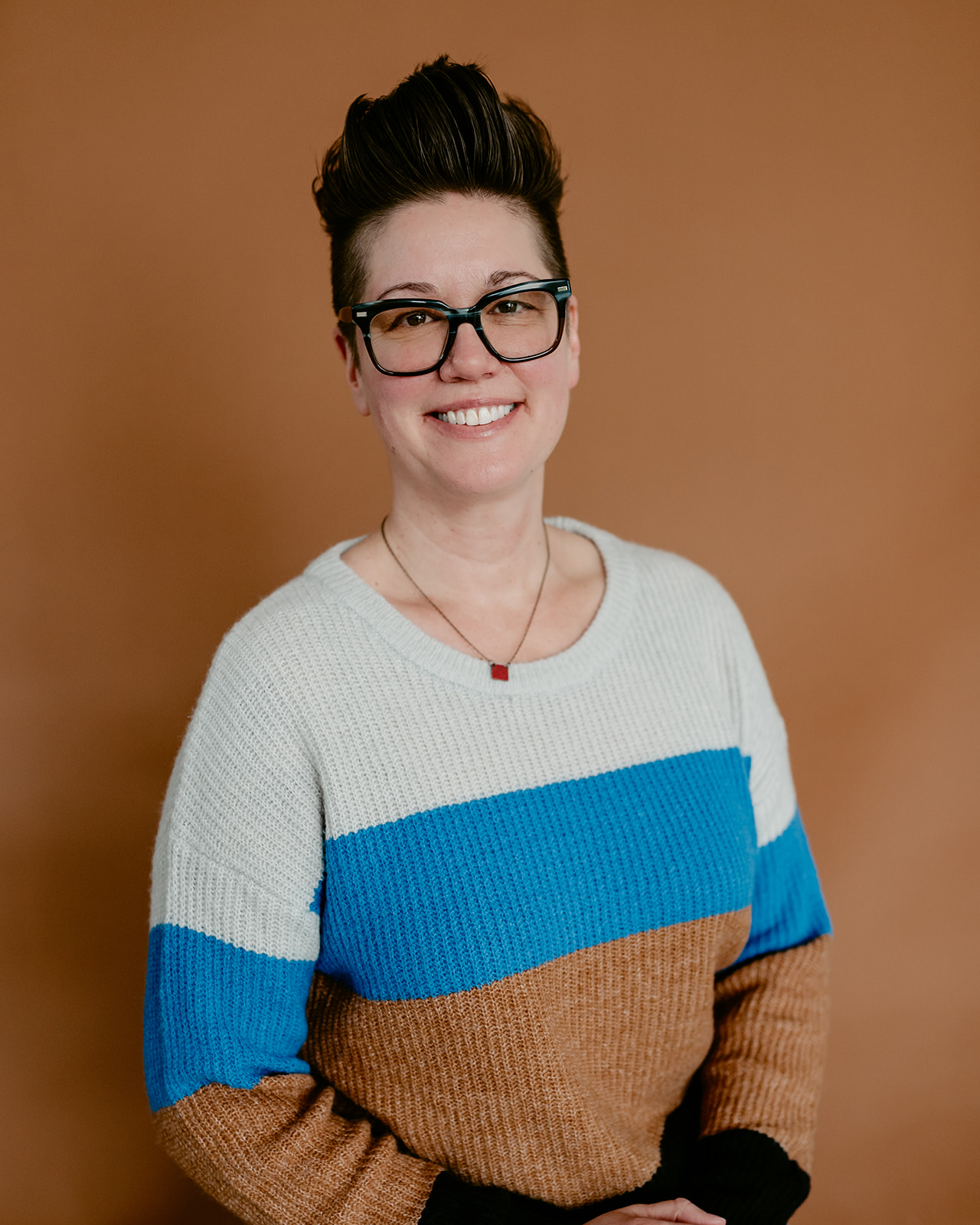 Meet Dr. Melanie McNally!
Having recently moved from the Chicago area, Dr. Melanie McNally is busy establishing a psychotherapy practice in the Upper Peninsula. However, she and her husband are also busy hiking with their three dogs as they explore the UP.  After earning her PsyD in Clinical Psychology, she began a private practice in 2015, which has now become a teletherapy only service. As a clinical psychologist, she says that her specialty is helping Gen Zers become the superheroes of their life stories by decreasing anxiety and building self-confidence. And if she is on a mission, it is to help people feel comfortable in their own skin – flaws and all. "I think so many mental health issues are rooted in this discomfort," she says.  Dr. McNally and her husband are childfree by choice and their family currently includes their three dogs – Watson, Derby, and Mini. "Our dogs are a central part of our life and included in pretty much everything we do," Dr. McNally says.  She enjoys mountain biking, hiking, and reading. At this time, she is simultaneously reading Under a White Sky by Elizabeth Kolbert and The Joy Diet by Martha Beck. "Under A White Sky is all about climate change and how much humans are ruining things," she says, "so I really needed something positive to counterbalance it." She adds that she read a lot and her favorite book of 2021 so far is The Extended Mind: The Power of Thinking Outside the Brain by Annie Murphy Paul.  Dr. McNally wrote a novel, Counting Dragonflies, and an accompanying workbook to go along with it. The novel and workbook are for tweens and teens and both are available through her website (destinationyou.net).  She says when she came to Michigan she immediately joined MPA and signed on with the Communications Committee as a way to get involved and to meet other Michigan psychologists. She is also trying to create a UP division for area psychologists. "So if you are interested," she says, "please let me know!"
---
Meet Cynthia Schroeder Rodriguez!
Cynthia Schroeder Rodriguez, currently in her fifth year serving as MPA Secretary, has a PhD in Clinical Psychology from Loyola University Chicago (1989). Her training included a child clinical internship at Michael Reese Medical Center. While living in Chicago she worked in pediatric, community mental health, and private practice settings. As a child and adolescent staff member at an APA-approved internship site she supervised psychology interns and externs and taught a Child and Family Seminar. In 2001 Dr. Rodriguez and her family moved to Grand Rapids, where her independent practice now focuses on children, adolescents, and women. She believes that today's youth often need help building skills for managing emotion, tolerating stress and frustration, solving problems, and connecting with others in meaningful ways. Particular clinical passions include working with teenage girls and their moms, as well as consulting with parents in general. Dr. Rodriguez has two grown daughters and is married to Rogelio Rodriguez, PhD, Program Manager for several VA outpatient mental health clinics in western Michigan. She has a tortoiseshell cat named Willow and enjoys playing the oboe and piano, trail walking, and volunteering for environmental causes. Currently on her nightstand: "A Perfect Spy" by John Le Carré and "Begin Again" by Eddie Glaude Jr.
---
Meet Dr. Brittany Barber Garcia!
Dr. Brittany Barber Garcia works at Spectrum Health Helen DeVos Children's Hospital, Sections of Pediatric Behavioral Health and Pediatric Pain and Palliative Medicine in Grand Rapids and she serves as the Chief of Psychology for the Spectrum Health Medical Staff. There she conducts psychological assessments and treatment of children and adolescents with somatic symptom disorders, primarily chronic pain. After graduating with a PhD in Counseling Psychology from Marquette University, Dr. Barber Garcia has discovered that she is truly a clinician at heart. "I love being able to connect with children and adolescents to help them identify their struggles and figure out how to move forward." She says that she takes pride in developing therapeutic relationships with teenagers who really do not want to come see a psychologist in the first place. She is married and has two young children; a 7-year-old daughter, who loves to dance and swim, and a 6-year-old son, who loves his "Ninja" classes. They have one dog, Cooper, and shh... don't tell her kids that she and her husband are planning a puppy surprise for Christmas morning! Dr. Barber Garcia's hobbies include reading, running, and listening to audio books while running. She was recently elected to the School Board of Caledonia Community Schools, which is both her alma mater and her children's school district now. She sits on the board of a non-profit organization, has been the chair of the CYF Committee for five years, and is looking forward to serving in her new role as MPA President-Elect. The only book on her nightstand (due to the aforementioned audio book habit) is a Five-Minute Journal, which she uses to focus on gratitude and jot down her kids' funny sayings.
---
Meet Dr. Joe Walrad!
Dr. Walrad earned a PhD from Wayne State University. He currently works in an independent private practice in Allen Park, Michigan with adults and children, using an emphasis on family and relationship dynamics. He also participates in a local high school substance abuse task force and has spoken to church groups on mental health issues. Dr. Walrad sees psychology as a true calling; a great opportunity to make a difference in the lives of individuals and families. After some years in this community, he finds it gratifying that clients sometimes return to discuss new challenges at another stage of life.  Dr. Walrad values his membership in MPA, as he is continuously impressed by the caliber of people that he has met through this organization.  He finds that MPA provides professional connectedness, which is especially important as an independent practitioner.  He also appreciates the availability of legal and ethical consultation and the high quality and targeted CE programs that have helped meet licensure requirements.  Over many years, he routinely looks forward to attending MPA conferences. Personally, Dr. Walrad enjoys golfing and spending time with his family and friends.  What's currently on his nightstand? "The President is Missing" by Clinton and Patterson.
---
Meet Dr. Jennifer Peltzer-Jones!
Dr. Jennifer Peltzer-Jones earned a Bachelor's degree in Nursing from DeSales University in 1997, an MS in Clinical Psychology from Millersville University in 1999, and a PsyD from LaSalle University in 2006.  She has utilized her degrees in her current work specializing in Health Psychology.  She is currently the Assistant Medical Director of Emergency Behavioral Services, overseeing the operational flow and care management for patients in psychiatric crises who present to any of the 9 Henry Ford Emergency Departments.  In this role, she works closely with community partners to develop plans of care for vulnerable patients. In addition to clinical responsibilities, she is highly involved in education and is a trained facilitator for the national Schwartz Center Rounds Program – a hospital-based program that focuses on the humanity behind healthcare.  Dr. Peltzer-Jones is passionate about people having access to mental health care when they need it and where they present and has worked to promote program and psychology position development in non-traditional psychology settings. She believes that psychological factors greatly influence people's ability to understand and cope with medical illnesses and works to help patients understand their medical or psychiatric crises in order to improve their health outcomes.  Dr. Peltzer-Jones' primary areas of research include the care and management of people in psychiatric crises as well as the influence of health literacy on healthcare help seeking behaviors. Dr. Peltzer-Jones is excited by the work MPA is doing to advocate for psychologists in the state and is honored to help expand the focus on the roles Health and Integrated Psychologists play.  Outside of work, Dr. Peltzer-Jones has two spoiled dogs and many hobbies. She is an avid Philadelphia sports fan (known as "Philly Jen") and participates in multiple social and community events in the Walled Lake area, often hosting events at her backyard tiki bar. What's on her nightstand? A Man Called Ove by Fredrik Backman.  LinkedIn, Twitter
---
Meet Dr. Antú Segal!
Dr. Segal earned her doctorate degree in Clinical Psychology from Roosevelt University in Chicago, Illinois. She currently works as a Board Certified Clinical Health Psychologist at Henry Ford Health System, Transplant Institute in Detroit, Michigan.  Through an integrated team approach, Dr. Segal evaluates individuals who are approaching liver transplantation, as well as individuals who want to donate kidneys. As a bicultural, bilingual clinical psychologist, she also advocates for multiculturalism within the work setting and provides services to monolingual Spanish-speaking individuals.  She enjoys being a part of MPA because of the breadth of assistance provided by members of this diverse community, numerous networking opportunities and ability to effect change for psychologists at the state level with advocacy efforts. Dr. Segal previously served as the chair of the MPA Communications Committee and assumed the role of President-Elect in January 2020.  Outside of work, Dr. Segal has a cat, Clementine, (hoping for a dog in the near future too!) and she enjoys being outdoors, trekking and camping. She also enjoys traveling, near and far, with her partner to learn about other cultures and new customs, as well as taste the wonderful, diverse foods of the world.  Twitter, Instagram, LinkedIn
---
Meet Dr. Debra Smith!
Dr. Smith earned her PsyD from Central Michigan University in 1996 and has worked as a clinical psychologist in private practice for 15 years before retirement in June 2018. She specialized in work related to trauma, transgender issues, and mindfulness. She has also formally taught psychology throughout the state at Northern Michigan University, Michigan State University, Central Michigan University, and Lansing Community College. She teaches mindfulness courses in the community and holds salon series related to various topics in psychology. Dr. Smith is passionate about taking psychology to the community and believes that there are many ways we can help people using different venues than just our clinical office. She likes to make psychology accessible and friendly. Dr. Smith values her membership in MPA because of the relationships that she has been able to build over the years and the access to professionals for consultation when needed. Personally, Dr. Smith has been married for 15 years and has one cat. She is a 20-year Rotarian and serves as Treasurer for her local club. Her involvement in this group has taken her to Guatemala on a service project and to Portugal for an International Convention with 30,000 other Rotarians. What's on her nightstand? "The Opposite of Hate" by Sally Kohn and "Awakening the Heart" by Jack Kornfield.
---
Meet Dr. Carol (Ketl) Freedman-Doan!
Dr. Carol (Ketl) Freedman-Doan earned a PhD in clinical psychology from the Wayne State University and is a licensed psychologist specializing in child and adolescent psychology. She has a small private practice in Livonia, MI and works at Eastern Michigan University, where she was instrumental in developing the Clinical Psychology PhD program which first launched in 2001. She served as the first Director of Clinical Training and took over as Department Head in Psychology in 2007. As Department Head, she helped launch a minor specialization in Human Sexuality, as well as a multidisciplinary undergraduate program in Neuroscience. Dr. Freedman-Doan is passionate about training students in their clinical and research work. She finds it rewarding to help a student move from insecurity about how to assess, evaluate, and treat a client to a better foothold on their skills and expertise. In her own research, she investigates the impact of parenting style on child and adolescent outcomes including anxiety, behavior problems, and cognitive development. Dr. Freedman-Doan values her membership in MPA; particularly how it keeps her knowledgeable about changes in licensing, insurance issues, and job opportunities for her students. Outside of her professional work, Dr. Freedman-Doan served as President of Temple Beth Emeth's Board of Directors for the past three years. This synagogue has about 575 families and is the only Reform Jewish synagogue in the county. She has been married for 40 years and has two daughters, ages 32 and 27. Her older daughter currently lives in Thailand, working for the School of Nursing at Chiang Mai University, while her younger daughter sings opera and teaches private voice lessons at Saline High School and the surrounding community. She also has a cat named Kasha. What's on her nightstand? The Hundred-Foot Journey: A Novel by Richard Morais.
---
Meet Dr. Robert Funaro!
Dr. Funaro earned three Master's degrees (psychology, education, and theology) and then a doctorate in education.  He is a fellow in the American Association for Marriage and Family Therapy and also works as a Certified Spiritual Director in a private practice in Ada, Michigan (www.thejourneyemerges.com; Twitter @bobfun).  Dr. Funaro experiences life as a journey of emerging, evolving, and interconnecting processes and tries to integrate this ideology into his work as a therapist and spiritual guide.  He focuses on helping those who are anxious, depressed, or have troubled relationships and assists those who are seeking the place of the Divine in their lives as they prepare for marriage.  He also works with his wife Christine in delivering a Marriage-Preparation program, The Journey Emerges. Together, they have served over 25,000 couples.  Dr. Funaro is interested in research related to the dynamics of relationship development and sustainability and has had leadership roles at several educational institutions throughout the state.  Specifically, he is the retired provost of Davenport University and retired director of the Western Michigan University Cooley Law School.  He is also the former interim dean of students at the University of Michigan – Dearborn.  Dr. Funaro views the best part of his involvement with MPA as the collegiality, professionalism, and friendships that he has developed through the association.  Personally, Dr. Funaro has been married for almost 40 years and has four children and six grandchildren.  He is actively involved in his parish, works as a Hospice Volunteer for Elara/Great Lakes Caring, and, as an active member of the Associates of the Congregation of St. Joseph for the last 40+ years.  What's on his nightstand?  Various works of Sr. Thea Bowman, Thomas Merton; works on Anger; and Scripture.
---
Meet Dr. Amanda Johnson!
Dr. Johnson earned her Ph.D. from Wayne State University in 2007 and board certification in neuropsychology in 2012.  She works as a clinical neuropsychologist at UP Health System Marquette.  She also serves as adjunct faculty through the Michigan State University Medical School Rural Program. Though her work is primarily clinical, she has recently re-engaged in research, examining the utility of the Lichtenberg Financial Decision Rating Scale.  Dr. Johnson serves on the membership committee of MPA and values her MPA membership because it allows her to advocate for professional psychologists on a state level.  Outside of work, Dr. Johnson is celebrating 15 years of marriage and has three children.  She is an avid runner and involved in theater communities in Marquette.  She is passionate about the city of Marquette and enjoys taking in the beauty of the Upper Peninsula.  What's on her nightstand?  "Hamilton."
---
Meet Dr. Elizabeth Imbesi!
Dr. Elizabeth Imbesi earned her Ph.D. from the University at Buffalo and is a licensed psychologist with board certification in clinical health psychology. She is currently the supervisor of psychology services at NeuroRestorative in Ann Arbor. She has been involved in education, primarily through supervision of internship & practicum students at the Ann Arbor/Toledo and Battle Creek VAs, through staff trainings about mental wellness and patient interaction at her current position, and as an applicant mentor through the American Board of Clinical Health Psychology. Her research interests include chronic pain, TBI & behavioral sleep medicine; she also is interested in ethics and institutional dynamics. Dr. Imbesi is passionate about whole-health wellness due to the increasingly fragmented medical system that often too sharply delineates physical from emotional health. She is also passionate about art and creativity. Outside of work, Dr. Imbesi enjoys spending time with her family and two pet cats in southeast Michigan. Her hobbies include exercise (running, weight lifting, karate), creative writing, and playing the 
violin. She is involved in the community primarily through psychology-oriented organizations including MPA, APA, ABCHP, and the Washtenaw Psychology Society. She feels that the best part of being a member of MPA is the connections she has made with other psychologists & the opportunity to get differing perspectives on clinical or ethical concerns. What's on her nightstand? Professionally, she is reading Why We Sleep by Matthew Walker, and for personal enjoyment she is reading The White Album deluxe edition book by Paul McCartney and other contributing authors.
---
Meet Dr. 
Lyndsay Volpe-Bertram!
Dr. Volpe-B
ertram earned her Psy.D. from the Chicago School of Professional Psychology and is board certified in Clinical Psychology through the American Board of Professional Psychology. Dr. Volpe-Bertram works as a clinical psychologist at Spectrum Health in Grand Rapids. She tre
ats a wide variety of ages and presenting concerns but specializes in th
e use of evidence based treatment, including Cognitive Processing Therapy, for treatment of trauma symptoms. Dr. Volpe-
Bertram particularly enjoys working with victims of trauma, as the healing and resiliency that she witnesses in these individuals is "nothing short of amazing". Dr. Volpe-Bertram values her membership in MPA because of the access that it provides to a larger group of educated psychologists in the state whom she can rely on for consultation. Personally, Dr. Volpe-Bertram is married to a neuropsychologist and has two young children and two orange cats. She enjoys spending time with her family and friends in the Grand Rapids area and she loves to travel. What's on her nightstand? As she is just returning to work after maternity leave, "The Very Hungry Caterpillar" and "Pete the Cat".
---
Meet Megan Pejsa-Reitz, MS!
Megan is a graduate student enrolled in the Clinical Psychology Program at Eastern Michigan University (EMU). She earned her Master's of Science degree from EMU and is currently on track to complete her doctorate. Her clinical area of special interest is in eating disorders, which builds off her passion for promoting physical activity and healthy lifestyles to reduce medical complications associated with obesity. She currently has a clinical placement at Henry Ford Health System, where she conducts assessments for patients seeking bariatric surgery. She provides group therapy at EMU that incorporates psychoeducation to assist with weight loss as well as behavioral treatment to assist in implementing healthy behavioral changes. Megan also serves as the graduate student representative to the Michigan Psychological Association. She values being a member of MPA because of the relationships that she has built with other MPA members, and supporting the growth and development of student members. Personally, Megan has been married to her high school sweetheart for three years and has one cat. Her hobbies include board game nights, antique shopping, kayaking, and cooking.
---
Meet Dr. Joy Ensor!
Dr. Ensor earned her Ph.D. from the University of Michigan and works as a clinical psychologist at Ann Arbor Center for the Family (www.annarborcenter.com), specializing in family systems and collaborative problem solving approaches.  Dr. Ensor uses a social justice lens to examine the politics and economics of caring for the most vulnerable among us.  She also is a board member of Hawthorn Center Association (a charitable organization benefiting Hawthorn Center patients) and the is the president elect of the Michigan Psychological Association.  She enjoys being a part of MPA because she views its members as "a dedicated, brilliant, and values-driven group of people who work well together around a common purpose".  Outside of work, Dr. Ensor enjoys classical piano, practicing T'ai Chi, service to her synagogue, and spending time with her husband Doug (a fellow psychologist) and her two daughters.  What's on her nightstand?  "A Gentleman in Moscow" by Amor Towles.
---
Meet Dr. Elissa H. Patterson!
Dr. Elissa (Lissa) Patterson earned a Ph.D. in biopsychology from the University of Chicago and a Certificate of Clinical Re-specialization from William James College (formerly the Massachusetts School of Professional Psychology). She currently works as a Clinical Assistant Professor of psychiatry at the University of Michigan, where she specializes in health psychology (https://medicine.umich.edu/dept/psychiatry/elissa-patterson-phd; https://twitter.com/epatters2). Prior to her life as a psychologist, she studied English literature at Colgate University, teaching at Sierra Nevada College in Lake Tahoe, and biology at the Harvard University Extension School. She is passionate about improving the well-being of individuals and society through education, clinical practice, and systemic growth. She enjoys teaching medical students, psychology graduate students, and psychiatry residents about the applications of psychological principles in medicine--particularly the benefits of re-integrating the mind and the body.

Dr. Patterson works on the Consultation Liaison Service at University Hospital in Ann Arbor, where she sees medical/surgical patients who experience psychological factors impeding their medical progress. In partnership with the department of neurology, she helped develop a multi-disciplinary clinic for patients with conversion disorder (psychogenic non-epileptic seizures) using a published treatment that draws on elements from multiple schools of thought including mindfulness, stress management, CBT, psychodynamic psychotherapy, and principles of influence.

This summer, Dr. Patterson took on a new role as Professional Development Coach with the Michigan Medicine Office of Clinical Affairs. In this position, she helps faculty members evaluate and develop their communication skills, given the positive relationship between communication and patient safety. She is a member of the Michigan Medicine Pain Committee, and she is passionate about the importance of spreading understanding about biopsychosocial approaches to pain perception and management as a tool to fight the opioid epidemic. As president of MPA, she hopes to increase public awareness of the many ways that psychologists contribute to generating healthy communities in all senses of the word "healthy."

Regarding the importance of MPA membership in her life, Dr. Patterson states "MPA membership grounds me in the collective wisdom of a long-standing organization that monitors and influences the practice of psychology in Michigan. I love having access to tailor-made continuing education and networking with other psychologists through MPA-facilitated peer consultation groups. In addition to professional enrichment on a personal level, for me, MPA is an outlet through which I can connect with like-minded colleagues as we all contribute to pro-social initiatives that improve lives by increasing access to psychological tools."

Dr. Patterson lives with her partner Gabriel Corfas, PhD, who is a neuroscientist at Michigan Medicine and the director of the Kresge Hearing Research Institute. She is a dog-lover and also enjoys gardening, jogging, sailing, home renovation, skiing, reading, socializing, and exploring new places and cultures. She speaks French, Spanish, Armenian, some Russian and some Portuguese. What's on Dr. Patterson's nightstand? Kitchen Table Wisdom by Rachel Naomi Remen and In Shock: My Journey from Death to Recovery and the Redemptive Power of Hope by Rana Awdish.