---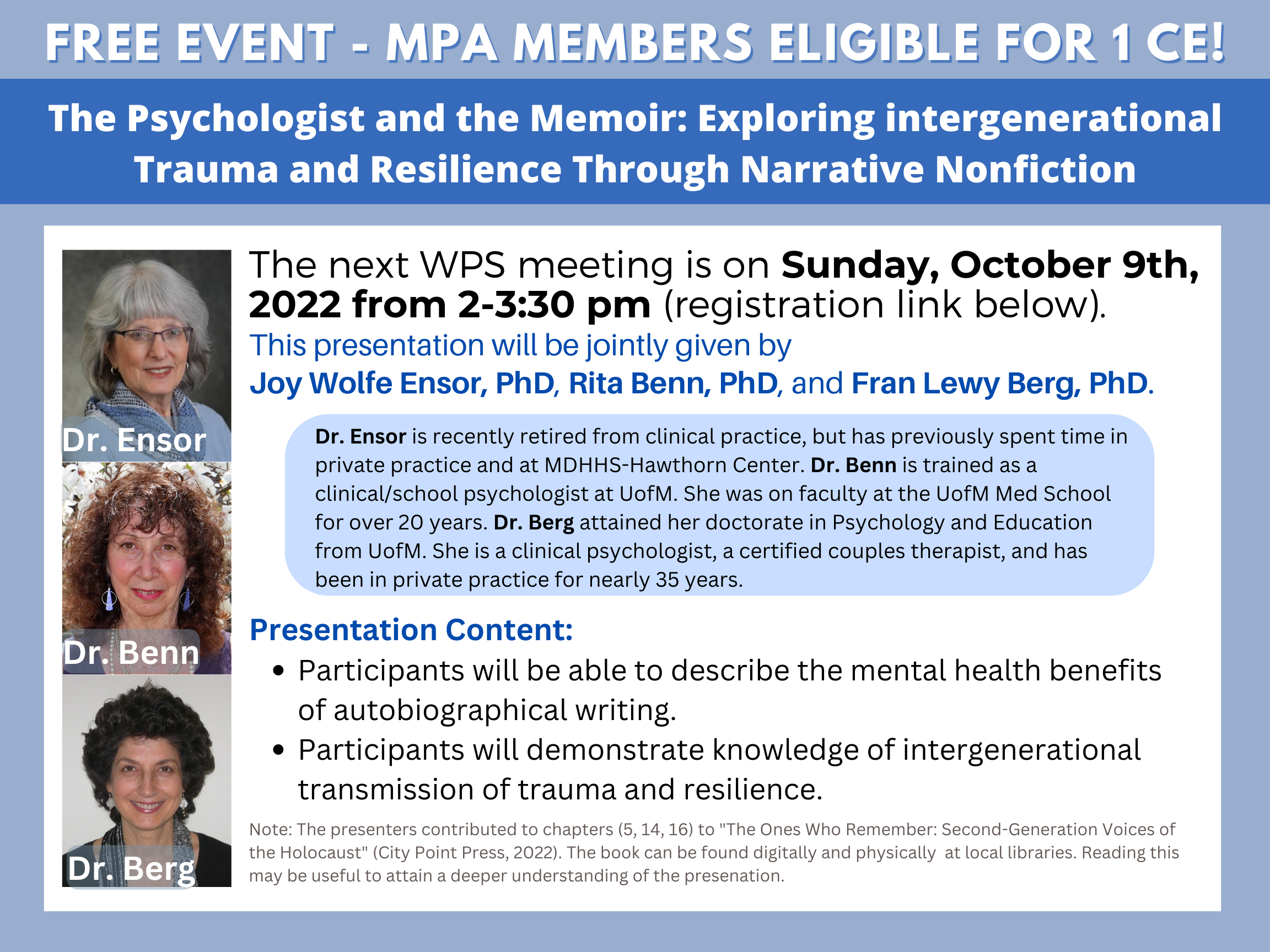 Sunday, October 9, 2022
2:00 pm - 3:30 pm
**Eligible for 1 FREE CE to MPA Members ONLY**
(Registration is FREE, but required for all attendees)
Event Description:
Three Ann Arbor psychologists have contributed chapters to an anthology entitled "The Ones Who Remember: Second-Generation Voices of the Holocaust" (City Point Press, 2022). This collection of 16 chapter-length memoirs explores the authors' lived experiences growing up in the shadow of the Holocaust. The presentation will discuss the transmission of intergenerational trauma and resilience, and the therapeutic benefits that arise from narrative writing. Participants will be able to describe the mental health benefits of autobiographical writing. Participants will demonstrate knowledge of intergenerational transmission of trauma and resilience.
Presenter Info: This presentation will be jointly given by Joy Wolfe Ensor, PhD, Rita Benn, PhD, and Fran Lewy Berg.
Dr. Berg attained her doctorate in Psychology and Education from UofM. She is a clinical psychologist, a certified couples therapist, and has been in private practice for nearly 35 years.
---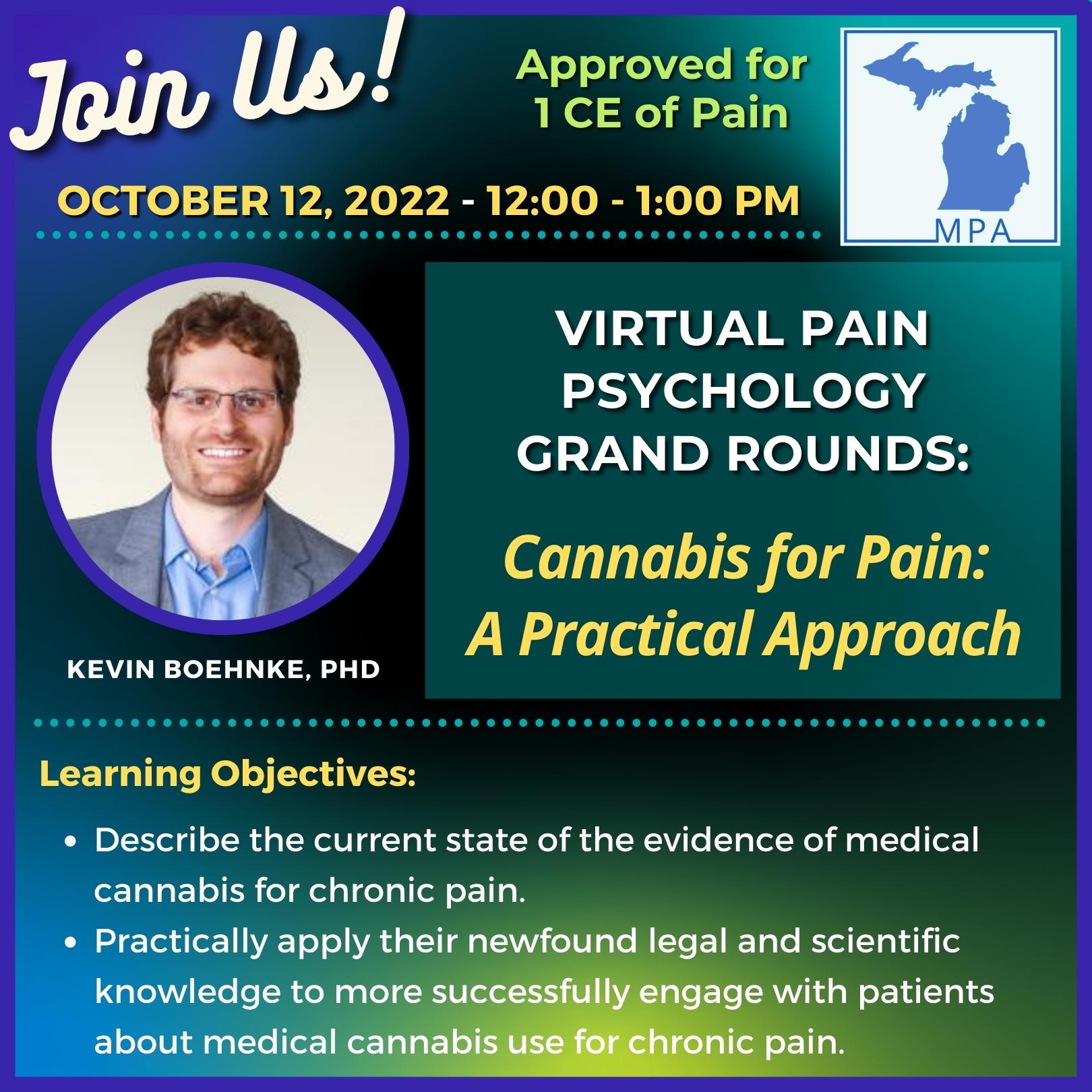 Virtual Pain Psychology Grand Rounds:
Cannabis for Pain: a Practical Approach
Presenter: Dr. Kevin Boehnke
EVENT DESCRIPTION:
In this course, the presenter will overview the legal landscape and current evidence for cannabis and cannabinoid use for chronic pain. This will include clinical trial evidence, naturalistic trends of use, barriers to use, gaps in knowledge, and pragmatic guidance on working with patients using cannabis or cannabinoids for chronic pain.
REGISTRATION RATES:
MPA Professional Member: $30
Non-member - Professional: $45
MPA Student member: FREE
Student Non-member: $25
---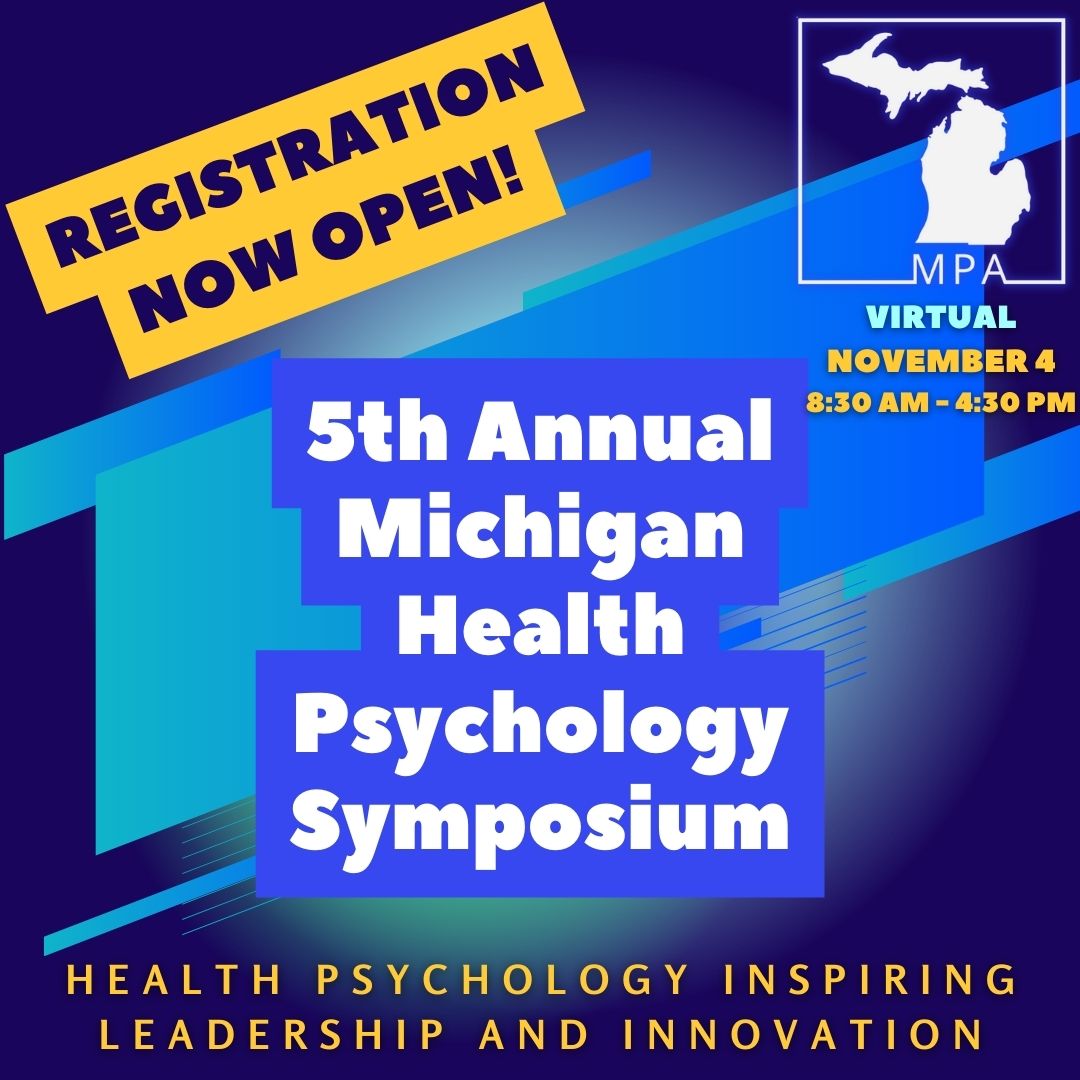 5th Annual Michigan Health Psychology Symposium
"Health Psychology Inspiring Leadership and Innovation"
Virtual Conference - November 4th, 2022
EVENT DESCRIPTION:
APPROVED FOR 5 CE's - 1 Pain, 4 General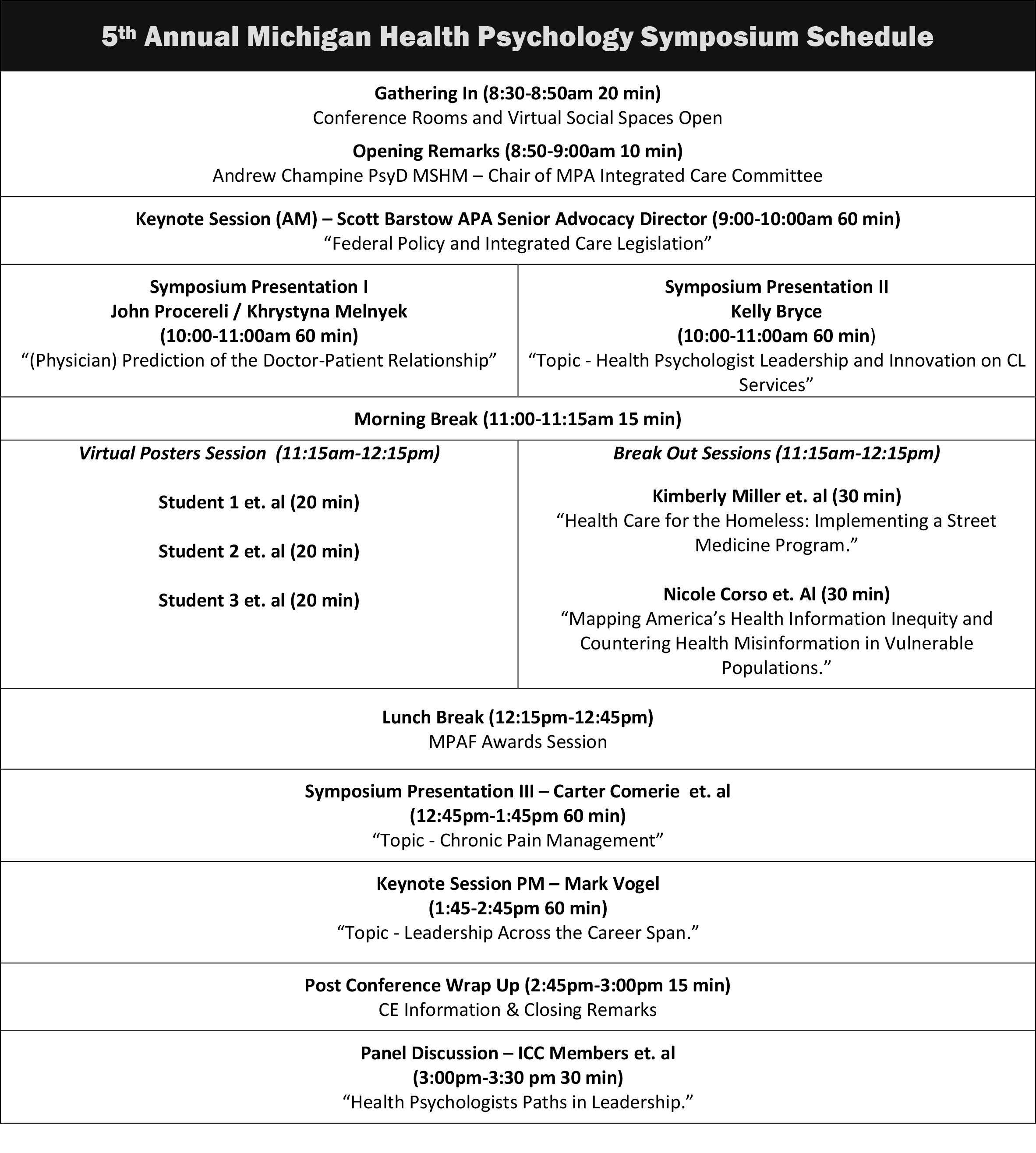 *This agenda is preliminary and subject to change as needed
REGISTRATION RATES:
MPA Professional Member: $115
Non-member - Professional: $160
Board Members: $50
MPA Student member: FREE
Student Non-member: $35
(Registration rates by member category will automatically apply upon login - Board Members and Speakers - please use your discount codes at checkout)

Call for Trainee Posters:
Made Possible by the University of Michigan-Dearborn Clinical Health Psychology & Health Psychology Graduate Program
Research Poster Competition-Video Version!
The trainee poster competition has always been an exciting part of the Michigan Health Psychology Symposium! Because this year's conference is virtual, the poster competition will be in "video" format as defined below.

All levels of health psychology trainees (undergraduate, graduate, intern, post-docs) may submit abstracts highlighting research related to Health Psychology or Case Studies of a unique diagnostic issue/care delivery issue relevant to the field of Health Psychology. Special preference will be given in as stated in the general call.
Deadline: Please submit your 500 word abstract by scanning the QR code above and completing the Conference Contributions Submission Form by

 

midnight

 October 15th, 2022. Those who are selected to participate will be notified via email on or before October 20th, 2022.
Format: Accepted presenters will prepare a video segment (maximum 3 minutes) that provides a synopsis of the project. Within the first minute of the video the author(s), full title, and affiliation should be presented.  The video should include the brief relevant background, data collection methods, results, and conclusions.  Examples of video formats could be (but not limited to) – annotated power point slide, keynote presentation, or pure video recording. The accepted video submissions will be aggregated and played for the audience during the conference program.  Winners will be notified after the virtual conference. Please contact us with any questions or conference needs at [email protected].
---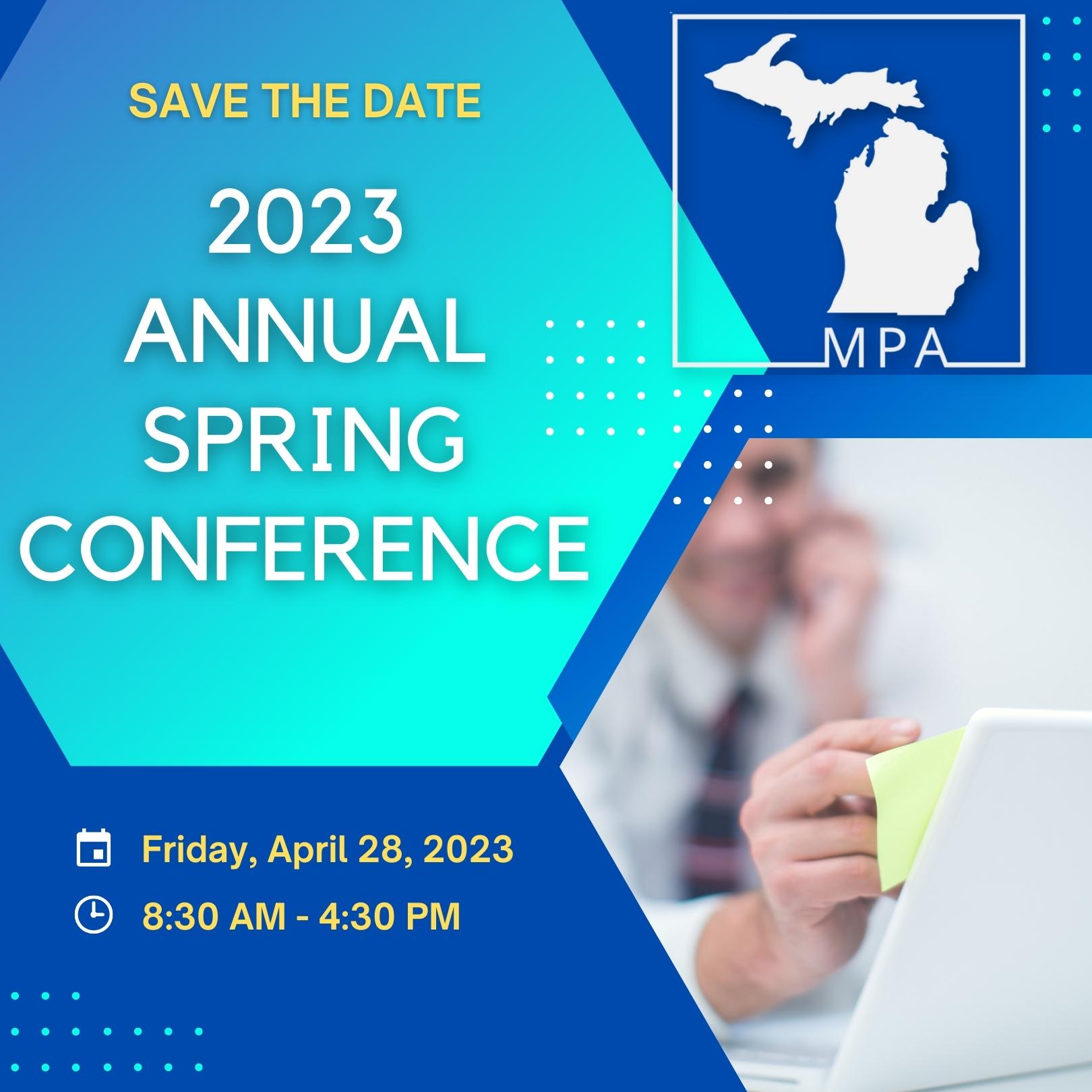 ---
 Need instructions to download your MPA Sponsored Event CE's? CLICK HERE!
What topics would you like to see at an upcoming MPA event? Request a Topic form 
What events do you want to see MPA participate/support in the community? Request MPA Participation form.
MPA Grievance Policy.