WPS June 13 Meeting - Ethics
Sunday, June 13, 2021
,
2:00 PM
-
4:00 PM EDT
Category: Events
---
The next WPS meeting is on Sunday, June 13, 2021 from 2-4 pm and will be on Zoom. After the 1.5 hour-long presentation, there will be an open discussion for attendees. 
 *** Register here in advance for this meeting***
After registering, you will receive a confirmation email containing information about joining the meeting.
Dr. Elizabeth Imbesi will speak on "Things Have Changed: New Ethical Challenges in Multidisciplinary Clinical Psychology during the COVID-19 Era." This presentation will provide a series of ethically challenging situations as well as relevant aspects of the APA code of Ethics for discussion.
Learning Objectives:
Participants will review, identify, and discuss the application of relevant principles of the APA code of Ethics to case vignettes.

Participants will identify and discuss the complexities inherent in 

multidisciplinary/interdisciplinary clinical work.
Participants will consider power dynamics among professionals and groups as well as the impact of these dynamics on patient care.
Participants will discuss these concepts within the context of the COVID-19 pandemic
Attendees are asked to follow the link below to the APA Code of Ethics and to review it prior to the presentation. https://www.apa.org/ethics/code
Dr. Imbesi is currently the supervisor of psychology services at NeuroRestorative in Ann Arbor. She has been involved in education, primarily through supervision of internship & practicum students at the Ann Arbor/Toledo and Battle Creek VAs, through staff trainings about mental wellness and patient interaction at her current position, and as an applicant mentor through the American Board of Clinical Health Psychology. Her research interests include chronic pain, TBI & behavioral sleep medicine; she also is interested in ethics and institutional dynamics. Dr. Imbesi is passionate about whole-health wellness due to the increasingly fragmented medical system that often too sharply delineates physical from emotional health.
1.5 hour of free CE credit is available for MPA members who attend this presentation. This presentation satisfies half of the CE credits needed for Ethics for license renewal.
Join WPS here!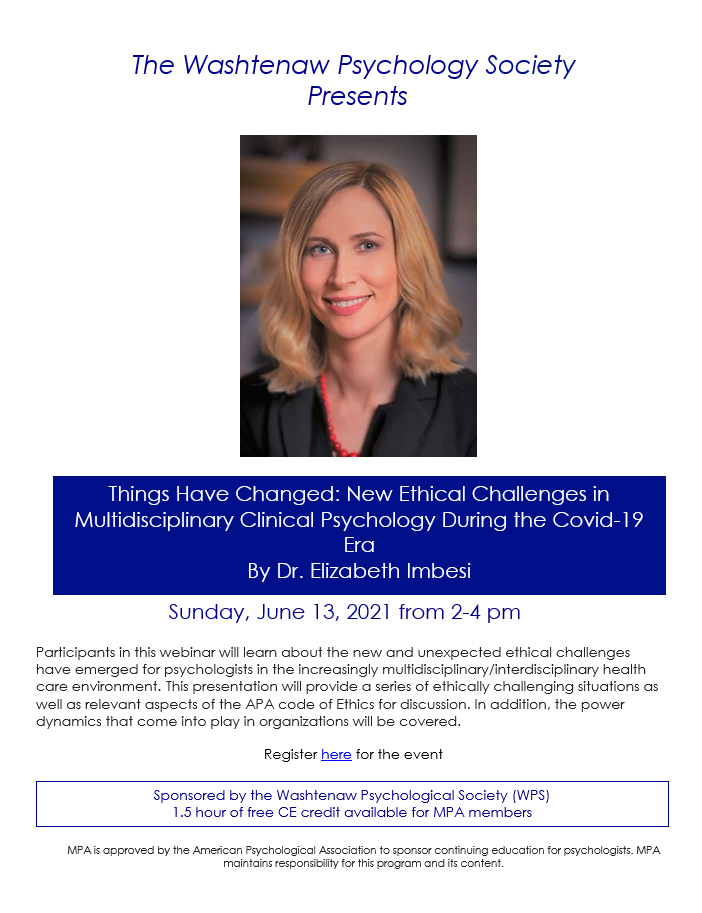 ---